VIDEO ASSIST 5" 12G HDR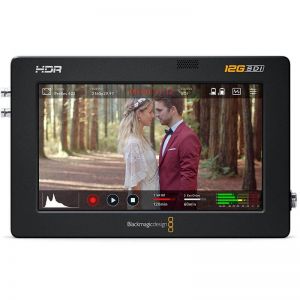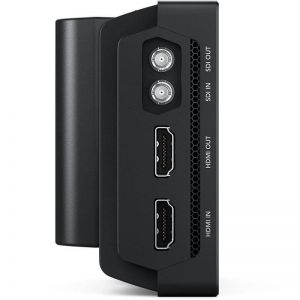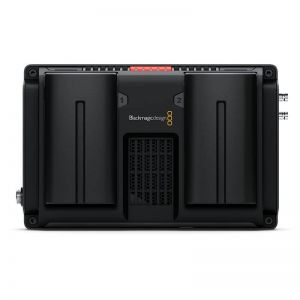 LIST PRICE: £655.00
OUR PRICE:
£589.00 ex. Vat
£706.80 inc. Vat
Request more information
VIDEO ASSIST 5" 12G HDR Description
Blackmagic Video Assist 5" 12G HDR adds professional monitoring and recording to any SDI or HDMI camera in all HD, Ultra HD, 2K and 4K DCI formats. The super bright 2500nit 5 inch HDR monitor supports 3D LUTs and features professional scopes along with powerful focus assist and exposure tools that help you accurately set focus, exposure and frame shots. The built in SD card recorder save files in broadcast quality 10-bit 4:2:2 ProRes or DNx formats. The files are all standard, so you can start editing immediately without having to convert them.
INTRODUCING BLACKMAGIC VIDEO ASSIST 12G HDR
The new Blackmagic Video Assist 12G HDR adds professional monitoring and recording to any SDI or HDMI camera in all HD, Ultra HD, 2K and 4K DCI formats. The whole new design includes innovations such as brighter screens for HDR work, tally indicator, 4 built in scopes, enhanced focus assist features, 3D LUTs and native Blackmagic RAW recording from supported cameras. With 12G-SDI and HDMI 2.0 on both 5" and 7" models, you get support for recording from virtually any device in all formats up to 2160p60. The brighter touch screen ensures a perfect view of your recording for HDR digital film and when shooting outdoors in sunlight. The new design also features upgraded batteries and supports two standard Sony Lâ€'Series batteries. This means Blackmagic Video Assist 12G is incredibly versatile and is the perfect solution for the next generation of digital cinema shoots, live production mastering and, broadcast testing and measurement.
PERFECT FOR DIGITAL CINEMA, LIVE RECORDING AND MONITORING
With its amazing versatility, Blackmagic Video Assist 12G is also great for recording from cameras, or even as a clip player. As the files are compatible with the HyperDeck disk recorders, you can even use Video Assist as a broadcast field recorder, or an ultra portable broadcast scope. Video Assist is a fantastic broadcast solution because you get both HDMI and 12G-SDI inputs plus it has built in scopes and 3D LUTs. The scopes also help you QA masters to ensure compliance with broadcast standards before streaming and broadcast.
MODERN DESIGN WITH 12Gâ€'SDI AND BRIGHT HDR SCREENS
There are two models of Blackmagic Video Assist 12G, with each model including an innovative touch screen user interface with deck controls as well as a large screen to view your recording. The Blackmagic Video Assist 7" 12G model also includes 2 media slots, while both the 5" and 7" models include 12Gâ€'SDI for high frame rate Ultra HD, analogue inputs for audio, USBâ€'C external disk recording, plus a front panel speaker and side mounted headphone jack. You also get 2 rear battery slots for mounting Sony Lâ€'Series batteries, so you have enough power for the brighter HDR screens and higher speed Ultra HD electronics. Plus with 2 battery slots, you can change batteries without interrupting recording. A 12v universal power supply is included for studio or on location use.
DUAL MEDIA RECORDERS FOR UNINTERRUPTED RECORDING
Video Assist uses commonly available SD card media, so you can record to flash memory cards that are easy to obtain. The files are small enough to allow long recordings on standard SD cards or the faster UHS-II cards. The larger Video Assist 12G 7" model even includes 2 SD card slots so you can swap out any full cards even during recording, allowing infinite length recording. Standard SD cards or the faster UHS-II cards are perfect for broadcast because they are small, high speed and affordable.
ADVANCED 12Gâ€'SDI AND HDMI 2.0 INPUTS AND OUTPUTS
Video Assist features a wide range of video and audio connections such as multiâ€'rate 12Gâ€'SDI for SD, HD, and Ultra HD SDI devices. HDMI is included for HDMI cameras and monitoring to consumer televisions and video projectors. The 7 inch model features Mini XLR inputs which are provided for audio input from microphones and external audio mixers. The USBâ€'C connection lets you plug in flash disks or disk arrays for recording, allowing extremely long record durations and because you're recording to a media disk, you can edit direct from this disk after the shoot, eliminating extra file copying work. Video Assist even includes a 12V DC power connection with locking power connector.
HDR SUPPORT WITH BRIGHT WIDE GAMUT LCD
You'll be ready for the latest HDR workflows with support for the latest HDR standards and an extremely bright screen with a wide color gamut. Plus the high brightness screen makes outdoor shooting in bright sunlight possible. The built in scopes even change to HDR scopes when working in HDR formats. Files are tagged with the correct HDR information then SDI and HDMI inputs will also automatically detect HDR video standards. Static metadata PQ and HLG formats are handled according to the ST2084 standard. The bright LCD has a wider color gamut so it can handle both Rec. 2020 and Rec. 709 colorspaces. The built in Video Assist LCD color gamut can even handle 100% of the DCIâ€'P3 format.
LATEST MULTI RATE 12Gâ€'SDI FOR SD, HD AND ULTRA HD
You get full support for the most popular video standards. The SDI and HDMI connections are multiâ€'rate, so handle SD, HD, and Ultra HD. SD formats include NTSC and PAL. 720p HD standards include 720p50 and 59.94p. 1080i HD interlaced formats include 1080i50 and 59.94. 1080p HD formats include 1080p23.98, 24, 25, 29.97, 30, 50, 59.94 and 60p. You can even do 1080 PsF formats. Ultra HD is supported up to 2160p59.94. You can even record 2K and 4K DCI rates up to 25p for digital film work.
LOAD CUSTOM 3D LUTS TO RECREATE FILM LOOKS
Some cameras can output logarithmic colorspace to preserve the dynamic range, which is great for later post production, however when these files are viewed on a monitor they can look flat and washed out. 3D LUTs solve this problem because they allow you to apply a "look" to the monitor so you get an idea of how the finished images will look like when editing. LUTs can be applied temporarily for monitoring only, or they can be burned into files for use in editing when capturing Blackmagic RAW. Video Assist works with industry standard 17 and 33 point 3D LUT files, or you can work with the built in LUTs such as Extended Video, Film to Video, Film to Rec.2020 and more.
VIDEO ASSIST 5" 12G HDR Specification
Portable all in one 5 inch HDR monitor, recorder

Includes professional scopes for any SDI or HDMI camera in all formats up to DCI 4K

Exceptionally bright 2500 nit panel

Supports 3D LUTs

Built in SD card recorder

Save files from any camera in 10-bit 4:2:2 ProRes or DNx formats

Blackmagic RAW recording with selected cameras
About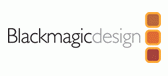 Blackmagic Design. Their range includes ATEM switchers, Teranex processors, Cinema Camera and DaVinci Resolve software - just part of an incredibly powerful array of cutting edge products. Engineered to the highest standard using the very latest technologies, Blackmagic combines class leading technical development with exceptionally keen pricing.