Baselight ONE Grading and Finishing system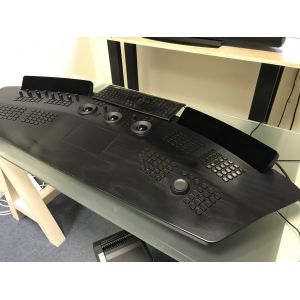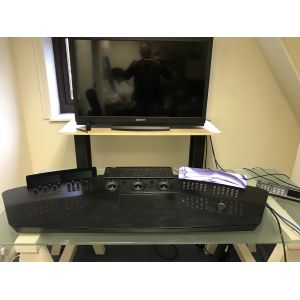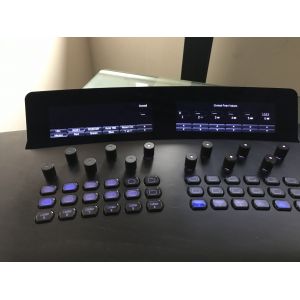 OUR PRICE:
£45,000.00 ex. Vat
£54,000.00 inc. Vat

Request more information
Baselight ONE Grading and Finishing system Description
Baselight ONE Gen 6 Includes HP-Z840 Work station Software Version 5.2 Fully-featured Baselight ONE is a complete system for todays grading and finishing requirements. It is based on a specifically-configured HP Z840 workstation. The tower system workstation is quiet enough to run deskside and comes in a diskless version with 24TB internal RAID 5 storage.
Cloud connectivity technology, standard on all systems, allows Baselight local storage to double up as a shared storage solution. Baselight systems can use each other's local storage as their own, while third-party systems (e.g. Autodesk Flame|Smoke, The Pixel Farm PFClean) can read and write to Baselight in the background.

>> Compact and powerful integrated hardware and software solution with 24TB internal RAID 5 storage external, high-speed RAID 6 storage (storage optional).

>> Blackboard 2 control surfaces including Avid Artist Color and the Tangent Wave and Element panels.

>> Play back and grade raw digital camera footage directly from the timeline with no transcoding.
>> Supports real time 4K DI without proxies in addition to SD, HD and other resolutions.
>> Video output hardware provides support for SD to HD, 2K and 4K with full 10-bit 4:2:2 and 4:4:4 colour at display frame rates up to 60Pâ€"including stereo.
>> HDMI 2.0b output capable of displaying 4K/UHD on the latest UltraHD monitorsâ€"making UltraHD monitoring more affordable.
>> Freely mix all resolutions and formats within the same timeline.
>> Unlimited, GPU accelerated â€?inside/outsideâ€â?? grade and effect layers with unlimited soft-edged Bezier shapes.
>> Apply grades using intuitive RGB and YCrCb controls; RGB/HSL curves and advanced hue-shift functions.
>> Automatic background rendering and high-speed disk caching for instant real-time playback.
>> Built-in high precision scopes and histogram.
>> Powerful image improvement tools including de-grain, de-noise and de-spot.
>> Comprehensive EDL support including CMX, Avid AAF and FCP XML.
>> Fast and accurate point and area-based auto trackers for shapes and image stabilisation.
>> Truelight Colour Spaces for the most accurate colour space conversions.
>> Per-shot and scene-based audio with multichannel monitoring.
>> Fully customisable user interface workspaces.
>> Exchange projects directly with other FilmLight systems and platforms via a high-speed cloud network.
>> HD/SD-SDI/3G video ingest and playout with embedded audio and full deck control (optional).
>> Full support for grade import and export using the FilmLight BLG file format.
>> Simple bidirectional project exchange between Baselight and Avid/FCP editing systems through extensive AAF/XML and native media support.
>> Total compatibility with other FilmLight systems including Daylight, Prelight and Baselight Editions, plus easy integration with other systems and workflows.
Baselight ONE Grading and Finishing system Specification
6.4TB NVMe SSD cache As an upgrade to the standard 3.2TB NVMe SSD cache.




24TB internal storage with 24TB of cache-protected, internal RAID 5 storage.




Fibre Channel interface Provides connectivity to supported SAN storage.



10 gigabit Ethernet interface module Dual on-board 10GBASE-T ports (does not use up a PCIe slot).

40/10 gigabit Ethernet interface card with either QSFP+ (40GbE) or legacy Cx4 or dual dual SFP+ ports (10GbE) for connection to Baselight Cloud and other systems.
About