UVW-1600AP Beta SP Player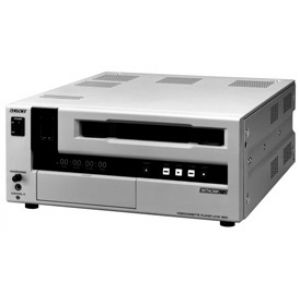 OUR PRICE:
£500.00 ex. Vat
£600.00 inc. Vat
Request more information
UVW-1600AP Beta SP Player Description
The UVW1600AP Betacam SP Feeder Player enables accurate editing with features like built-in time base corrector, built-in time code reader and 16 times picture search. With 90-minute playback capability, RS-422A remote interface, composite output, Y/C composite output and component (Y, R-Y, B-Y) output, the UVW1600AP is an excellent field editing player. It is also ideal for broadcast, medical, education and other distribution or post-production environments.
UVW-1600AP Beta SP Player Specification
Outstanding picture quality, thanks to Betacam SP format. - More than 100 minutes of playback time using L-size metal Betacam SP cassettes.

Two longitudinal audio channel with the Dolby C-type Noise Reduction system shown in unique bargraph indicators.

Dedicated longitudinal time code track.

Built-in Time Base Corrector with advanced high quality digital dropout compensation.

Built-in EBU time code (LTC/User-bit) reader.

RS-422A 9-pin interface.

Y/R-Y/B-Y component signal output via BNC or 12-pin DUB connector.

S-video (Y/C separate) output connector.

Optional TBC Remote Control Unit UVR-60P.

High speed picture search provides recognizable colour picture at up to 5 times normal speed in forward and reverse (16 times in monochrome).

Built-in character generator to monitor display information such as VTR status, time code, self-diagnostic messages, setup menu, and so on.

Initial setup menu to preset various detailed operational parameters.

Digital hours meter.

Built-in self diagnostics with detailed warning messages Compact and lightweight (4 units high, approx. 18 kg/39 lb 10 oz), 19-inch rack mountable and low power consumption (65W).
About