3574-3C Osprey Elite Studio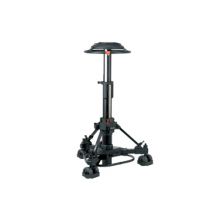 OUR PRICE:
£13,690.00 ex. Vat
£16,428.00 inc. Vat
Request more information
3574-3C Osprey Elite Studio Description
The Osprey Elite is extremely versatile, designed to support the latest range of digital, portable and full facility cameras for both studio and OB productions. The two-stage column offers on-shot movement from a minimum height of 66 cm/ 26 " to a maximum height of 143 cm/ 56 ", and features full crab and steer facilities controlled from a central steering ring.
The studio version of the Osprey Elite includes cable guards, whilst the larger wheels of the OB version offer greater ground clearance. Both versions have an exceptional combination of lightness and structural integrity giving maximum stability whilst still allowing the column and dolly base to fold for easy transportation.
The Osprey Elite is also ideal for use on track when combined with Vinten's Tracking Skid (see page 29). Other optional accessories include a portable hand pump to counterbalance the pneumatic system, a large steering ring and OB wheel cable guards.
Extensive on-shot capability
Removable steering and kick rings
Crab and steer facility
Folds for easy transportation
3574-3C Osprey Elite Studio Specification
Download PDF Specification Sheet
Model No.: 3574-3C Studio

[for OB version please see below]

Max. Capacity: 75 kg / 165 lbs [max. capacity includes trim weights]

Height Range: 66 to 143 cm / 26 to 56 "

Weight: 45.7 kg / 101 lbs

On-Shot Stroke: 77 cm / 30.3 "

Wheel Lock: Yes

Tracking Width: 97 cm / 38.2 "

Transit Width: 80 cm / 31.5 "

Narrow Transit Width: 72.3 cm / 28.5 "

Wheel Diameter: 12.5 cm / 5 "

Detachable Steering Ring Diameter: 53.3 cm / 21 "

Trim Weights: 3.5 kg / 7.7 lbs

Ground Clearance: 2 cm / 0.8 "


About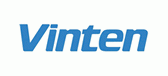 Vinten's wide range of lightweight, studio and outside broadcast camera support equipment enables you to work the way you choose without compromise. Discover how innovation, collaboration and ongoing successes have enabled Vinten and our products to develop over the last century.