Autocam HS-105P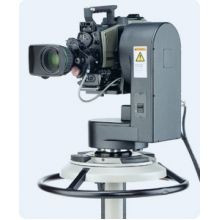 Call for Price
Request more information
Autocam HS-105P Description
Remote Pan and Tilt Head
Up to 34 kg (75 lbs)
The Autocam HS-105P is designed specifically for use with ENG size camera and lens configurations with a 34 kg (75 lbs) capacity.
The fast acceleration and angular velocity of the HS-105P lends itself to a variety of applications outside the studio environment, including parliamentary, or conference coverage.
The extremely rigid mechanical design and high precision servo technology ensures the head provides broadcast quality smooth movement at all times, while still achieving outstanding acceleration working seamlessly with the Vinten Radamec Control System.
Autocam HS-105PE
The head is also available in a weatherproof version, which will operate over an extended temperature range of -4°F to 122°F / -20˚C to +50˚C.
Autocam HS-105IT
For virtual studios there are factory fitted solutions available, providing real time digital electronic positioning of pan, tilt, zoom and focus to external graphic computers in the head described here.
Key Features and Benefits
Genuine broadcast quality movement, reliability and durability
Can be mounted or inverted for ceiling suspension
All may be used with the native lens drive for Autocam heads for direct lens servo control
Can all be controlled by the Vinten Radamec Control System
Autocam HS-105P Specification
About