Fusion FH-100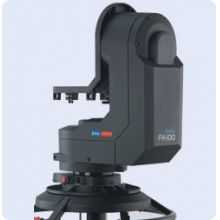 Call for Price

Request more information
Fusion FH-100 Description
Robotic and Manual Head
Up to 55 kg (121 lbs)
The Fusion FH-100 Robotic and Manual Head from Vinten Radamec has been designed for use as a standalone device or for seamless integration with the Fusion FP-188 Robotic and Manual Pedestal.
The Fusion head has a 55 kg (121 lbs) payload, and can be used in either manual or robotic mode.
Continuing the manual and robotic capabilities of the Vinten Radamec range, the Fusion head utilises the award winning LF drag system used in the Vinten range providing familiar drag performance for manual operators.
With a simple clutching mechanism the FH-100 Fusion Head regains robotic control by remotely driving the mechanical clutch.
The straightforward robust mechanical design and leading edge electronics development provide the perfect combination for a high performance head, both in flexibility and in accuracy.
The integral lens drive has automatic configuration for directly driving any full servo digital Canon or Fujinon broadcast lens, increasing the operational flexibility further.
The head contains its own power supply unit, allowing for mains to be taken into the head, either from the pedestal, or directly from the studio supply.
The data cabling is standard IT category 6.
The head is compatible with the Vinten Radamec Control System.
Key Features and Benefits
The only on shot performing manual and robotic pan and tilt head available in the market
Direct drive of all broadcast quality full servo digital lenses from Fujinon and Canon
Additional mounting points for preview monitors to further improve on shot performance
VR upgrade available - VR data output in both robotic and manual modes
Fusion FH-100 Specification
About