Fusion FP-188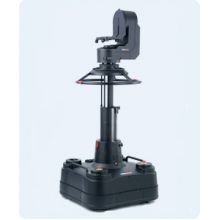 Call for Price
Request more information
Fusion FP-188 Description
Robotic and Manual Pedestal
Up to 85 kg (187 lbs)
The NEW Fusion FP-188 Robotic and Manual Pedestal is the latest in the acclaimed range of Fusion pedestals from Vinten Radamec.
The FP-188 is capable of recognizing a new, compact 'L' shaped floor target that offers more precise reference positioning across a wider range of floor finishes.This floor target can also be incorporated into the floor design.
The unit's generous payload of 85kg /187 lbs is capable of supporting an expanded camera/prompter package including the talent-facing vanity monitor often attached to the head during HD production. New differential wheel trucks maximise floor traction to enhance Vinten Radamec's already unmatched shot stability performance.
The quality of performance in manual or robotic mode allows a studio to be used as either fully robotic or fully manual, without compromising the operator's familiarity with Vinten's manual pedestals or the Radamec or Autocam robotic user interfaces.
The fully continuous steering capability is delivered through the column found on the Quartz pedestal in the Vinten manual studio range, allowing studio pedestal operators to be instantly familiar with the operating benefits of Perfect Balance.
With all the on shot characteristics you would expect, this robotic pedestal has a maximum height velocity of 150mm (6") per second, and a maximum floor speed of 300mm (12") per second.
The electronic units are housed in easy access modules in the base of the pedestal, allowing board and full pack swap out.
The FP-188 is compatible with all Vinten Radamec Control Systems and Fusion Heads.
To create a fully robotic 3D virtual reality tracking solution, the FP-188 is also available as the FP-188 VR equipped with replacement control and power boxes, which establishes communication to the Fusion Head Processing Module (HPM) fitted to the FHR-120 VR or FH-100 VR.
Key Features and Benefits
New differential wheel trucks maximise floor traction to maintain unmatched shot stability performance
Adjustable bumper sensitivity
Compact 'L' shaped floor targeting that offers more precise reference positioning across a wider range of floor finishes
Switchable robotic or manual mode - flexible system perfect for multifunctional studios
Perfect Balance and full manual studio pedestal stability and performance
VR and height only options available
Fusion FP-188 Specification
About