ATEM TELEVISION STUDIO PRO HD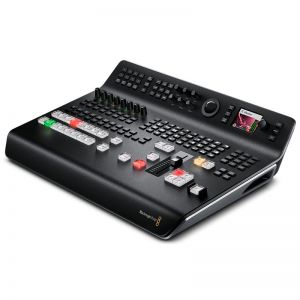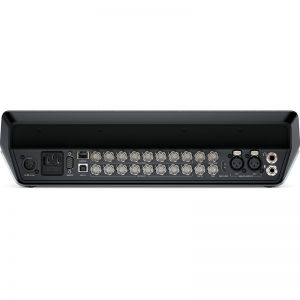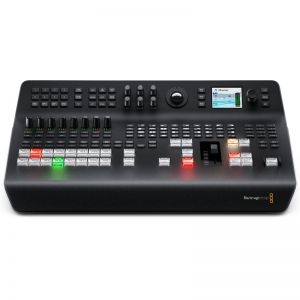 LIST PRICE: £1,895.00
OUR PRICE:
£1,705.00 ex. Vat
£2,046.00 inc. Vat
Request more information
ATEM TELEVISION STUDIO PRO HD Description
ATEM Television Studio Pro HD has grabbed the headlines as Blackmagic's first mixer with an integrated panel. There are some interesting features you may have missed on the switcher including:
12V DC in for use in the field
Camera control of Blackmagic Design cameras, including the Studio/Micro studio/Ursa Mini Range
Individual talkback to allow communication with selected camera operators
Individual audio controls
Direct buttons for many functions, including macros
ATEM TELEVISION STUDIO PRO HD Specification
Broadcast quality all in one live production switcher
Integrated broadcast switcher and professional hardware control panel
4 x 3G-SDI and 4 x HDMI inputs for a total of 8 inputs, all with auto reâ€'sync
Supports all video formats from SD to 720p, 1080i and 1080p HD up to 60fps
1 x built in multi view for 8 sources, as well as preview and program
Built in media pool graphics storage for 20 RGBA stills
Built in DVE with borders and drop shadow
Transitions include cut, mix, dip, SMPTE wipes and more
1 upstream keyer including chroma keyer plus 2 downstream keyers
1 auxiliary output with aux switching buttons and LCD screen for viewing
Built in audio mixer live mixes embedded audio from all video inputs and independent audio inputs
Balanced XLR stereo analogue audio inputs
Internal sources include black, colour bars, two colour generators and 2 media player outputs
Ethernet connection for computer connection. Mac and Windows control panel software included
Compatible with all ATEM Broadcast Control Panels
Black Burst and HD-Tri-Sync genlock input for integration into large systems
About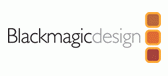 Blackmagic Design. Their range includes ATEM switchers, Teranex processors, Cinema Camera and DaVinci Resolve software - just part of an incredibly powerful array of cutting edge products. Engineered to the highest standard using the very latest technologies, Blackmagic combines class leading technical development with exceptionally keen pricing.