DVS-2000C Digital video switcher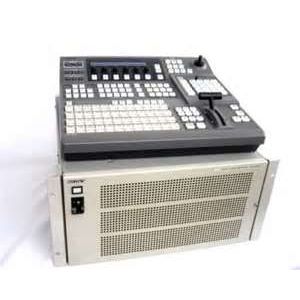 OUR PRICE:
£1,000.00 ex. Vat
£1,200.00 inc. Vat

Request more information
DVS-2000C Digital video switcher Description
The choice of video production equipment is a fundamental investment decision for professional users that will have a long-term effect on their individual creativity.
They will only make their decisions after a full and careful evaluation of available equipment that meets their own particular application needs.
The Sony DVS and DME families of switchers and digital multi effects are a natural choice. Using feedback from its long association with production and post production operations, Sony has developed a line-up of models that is complete in its range and features.
Forming an ideal combination with Sony digital multi effects models, these switchers lead a new generation in digital image creation. Sony offers you a wide choice of systems, all with integrated control and compatible effects.
DVS-2000C Digital video switcher Specification
BKDS-2010 Control panel

BKDS-2020A 6-Channel SDI input board

BKDS-2020A 6-Channel SDI input board

BKDS-2060 IO-92 Input/Output board

BKDS-2041 Frame Memory board

CPU-156 CPU board

BKDS-2050 DSK-11 Down Steam Keyer (Daughter) board

BKDS-2070 Enhanced Wipe (Daughter) board

BKDS-2071 M/E Key Border/Finekey board

BKDS-2050 KPC-6 DSK with Border/FineKey Main board

BKDS-2031 Chromakey board

BKDS-2061 AUX Bus/Processed Key Output board
About