DP570 Multichannel Audio Tool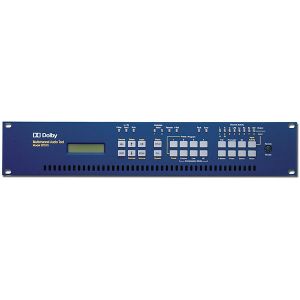 OUR PRICE:
£1,500.00 ex. Vat
£1,800.00 inc. Vat

Request more information
DP570 Multichannel Audio Tool Description
The Dolby DP570 provides unprecedented control and reference monitoring for the creation and delivery of Dolby Digital and Dolby E surround sound and metadata for DTV and DVDs.
The DP570 Multichannel Audio Tool greatly simplifies the preparation of content intended for Dolby® E and Dolby Digital encoding applications.
Its ability to completely configure and control the monitoring environment and set metadata parameters makes it the key product for postproduction, DVD, and DTV facilities that master, author, or broadcast program material with Dolby surround sound audio. Users can monitor exactly what the consumer ultimately hears on these programs.
DP570 Multichannel Audio Tool Specification
Download PDF Specification Sheet
Display and Controls Two-line, 16-character LCD with control keys for status indication and setup operations
Compression and Listening Mode Controls Full access for monitoring of all consumer listening modes and monitoring configurations
RS-232 Serial Remote Input Port 8-pin female mini-DIN connector for remote control and software upgrades

Preset/Program Controls Four user-definable presets for Dolby E program selection

Status LEDs Indicate input/output channel activity, video reference, metadata input, solo, remote control, Lt/Rt input status, fault, and error