HDW-M2000P HDCAM Player/Recoder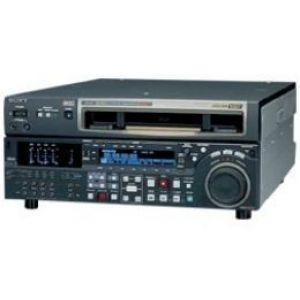 OUR PRICE:
£3,000.00 ex. Vat
£3,600.00 inc. Vat

Request more information
HDW-M2000P HDCAM Player/Recoder Description
A high definition VTR for prestige and mainstream programme production
Sony recognises that your needs as a programme maker will vary depending upon the type of programme being made. This has driven the development of a multi-format high definition product offering, including HDV for entry-level high definition operation, HDCAM for mainstream and prestige productions, CineAlta for 24P applications, and HDCAM SR for productions where only the ultimate quality will suffice.

HDCAM has long been associated with the production of the most prestigious movies, commercials and television programmes. The recent expansion of the HDCAM product line up has transformed the economics of HD for mainstream television production, with new models such as the HDW-730S camcorder making HD acquistion accessible to those working on standard definition budgets. And the HDCAM family continues to evolve.

A recent enhancement to the HDW-M2000P HDCAM VTR has added CineAlta 24P recording for the first time. This enhanced model, the HDW-M2000P/20, operates at the frame rates used for prestige and mainstream content creation and distribution. It offers HDCAM recording and playback at 1080/50i, 1080/59.94i, 1080/25P, 1080/29.97P, 1080/23.98P and 1080/24P.

The HDW-M2000P/20 is ideal as part of an end-to-end HDCAM production chain. It also makes business sense even when post production and programme distribution remains at 625/50 standard definition. An inbuilt HD to SD downconverter provides a standard definition output from your high quality HDCAM original recordings. Compatible replay of Betacam, Betacam SP, Betacam SX, MPEG IMX and Digital Betacam tapes also helps smooth your transition to the world of high definition.

This product comes with PrimeSupport - fast, hassle-free repairs and a helpline offering expert technical advice. Which gives you the peace of mind that Sony is looking after your equipment, and your business.
HDW-M2000P HDCAM Player/Recoder Specification
About