SRW-5800 HDCAM-SR Studio Player/Recorder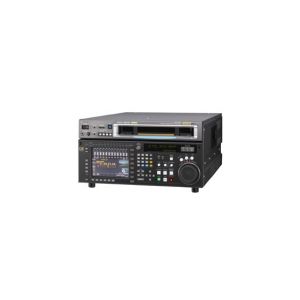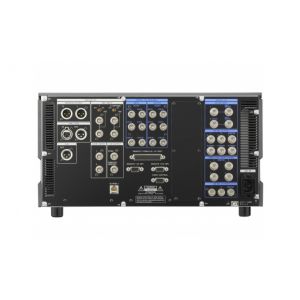 OUR PRICE:
£5,500.00 ex. Vat
£6,600.00 inc. Vat

Request more information
SRW-5800 HDCAM-SR Studio Player/Recorder Description
Sony HDCAM-SR VTRs - the RGB 4:4:4 full-bandwidth high-definition VTRs at the top of the Sony HD VTR lineup - have been well received, especially in movie-making, commercial productions, and high-end television production applications, due to their unprecedented picture quality and system functionalities.

As HD-based programme origination has become more commonplace, demand has steadily escalated for increased levels of quality criteria: even more video bit rates, higher frame rates, and greater format flexibility.

Reflecting these new criteria, Sony has announced a new HDCAM-SR studio recorder, the SRW-5800, capable of recording at an amazingly high video bit rate of 880 Mb/s. The new SRW-5800 HDCAM-SR Studio Recorder is equipped with the same key features* as the SRW-5500 and SRW-5000 recorders in the series, but exclusively provides the outstanding capability of 1080/60P and 50P recording through the use of 880 Mb/s data rate. The 1080/60P and 50P recording system is equally ideal for origination of progressive-based programmes, 720P programmes, and high-quality slow-motion programmes.

With the support of an extensive range of signal formats, including 1080/60P and 50P, plus outstanding system versatility and reliability, the SRW-5800 HDCAM-SR Studio Recorder should be the universal choice for high-end content creation today and in the future.

This product comes with PrimeSupport - fast, hassle-free repairs and a helpline offering expert technical advice. Which gives you the peace of mind that Sony is looking after your equipment, and your business.
SRW-5800 HDCAM-SR Studio Player/Recorder Specification
HDCAM-SR Format - For Exceptionally High Picture Quality Recording

The SRW-5800 recorder adopts the HDCAM-SR format, which records 1920 x 1080 resolution high-definition signals using the MPEG-4 Studio Profile compression scheme with a very mild compression ratio of 2.7:1 (4:2:2)/4:1 (4:4:4) and 10-bit colour depth. It enables both full-bandwidth 4:4:4 RGB and high-quality 4:2:2 Y/Cb/Cr recording, delivering optimal picture performance to suit many different production requirements.

Twice-speed Material Transfer*
The SRW-5800 allows 4:2:2 material to be transferred to servers and nonlinear editing systems at twice the normal speed using a standard Dual-link HD-SDI interface. This is achieved by playing back tapes at 880 Mb/s (double the normal 440 Mb/s speed) and transferring the data using two linked HD-SDI cables. This capability can greatly reduce the time required for material transfer.


*This feature will be available during 2008

Multiple Frame Rates

With the SRW-5800, the entire range of both interlace and progressive frame rates are available, ranging from 24-frame progressive imaging, to 60-frame interlace for high-end HDTV production applications. This includes 60P, 59.94P, 50P, 60i, 59.94i, 50i, 30PsF, 29.94PsF, 25PsF, 24PsF, and 23.98PsF.

720P Recording Capability

The SRW-5800 recorder can also record in 720/59.94P or 720/50P formats, meeting different needs for DTV programmeming and transmission.

12-channel Independently-editable Audio

The SRW-5800 recorder offers up to 12 channels of 24-bit audio at 48 kHz in both 1080- and 720-line recordings, to meet the most demanding audio recording requirements in digital content mastering.

The SRW-5800 can also record non-audio data streams within the audio recording area by packaging this data within an AES/EBU wrapper.
Furthermore, the SRW-5800 can accept AES/EBU data with 44.1, 32-kHz audio, or unsynchronised with video in audio tracks.


Legacy Playback Capability

The SRW-5800 recorder can play back HDCAM and Digital Betacam format tapes for more flexible operations

Internal Format Conversion

The SRW-5800 is equipped with a powerful internal format converter that enables many different types of conversion such as 3-2 pull-down, up-conversion, down-conversion, cross-conversion, colour-space conversion, and P-to-i conversion. This powerful built-in converter makes the SRW-5800 very versatile in post-production.

Easy Management of Setup/System Menus

The SRW-5800 offers a highly effective way to manage its System Menu. Up to eight groups of parameters in the System Menu and Setup Menu can be individually saved as bank memory onto the internal memory of the VTR. They can also be saved onto Memory Stick media, enabling them to be copied onto other SRW-5800 VTRs for quick and consistent setup of multiple VTRs.

Furthermore, equipped with an Ethernet interface, the SRW-5800 allows operators to remotely view the setup parameters saved in the VTR's memory bank, and to select a bank they want to use through a PC.

Other Features

Long recording time: up to 155 minutes on BCT-124SRL cassette
Frame-accurate insert/assemble editing
Digital jog sound
Confidence playback
Large 6.4-inch type* colour LCD that displays both playback pictures and various information such as timecode, audio level meters, and operational menus
Audio output channel exchange
Dual-sync feature for pull-down operation
Off-speed playback capability
Selectable picture modes: SQUEEZE, LETTER BOX, and EDGE CROP


* Viewable area measured diagonally














About