LV5350 4K/12G/3G/HD/SD-SDI PORTABLE WAVEFORM MONITOR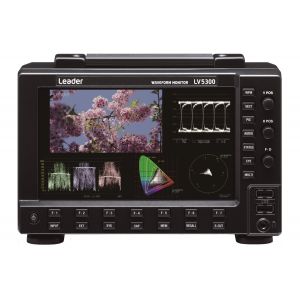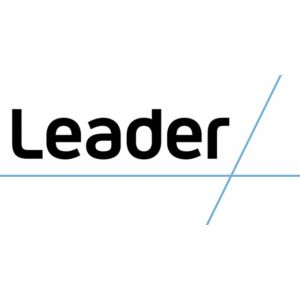 LIST PRICE: £7,949.00
OUR PRICE:
£7,000.00 ex. Vat
£8,400.00 inc. Vat
Request more information
LV5350 4K/12G/3G/HD/SD-SDI PORTABLE WAVEFORM MONITOR Description
NEW RELEASE NAB 2018 PORTABLE 4K UNIT

The LV5300 is a space-saving, compact WAVEFORM MONITOR specialized for 4K/HD/SD-SDI video signals.

The LV5300 is a waveform monitor with a 7-inch touch screen display in a compact 3 U enclosure operative with battery power supply.

It is compact but supports eye pattern measurement up to 12 G-SDI. Supporting both V-Mount and QR Gold Mount.
LV5350 4K/12G/3G/HD/SD-SDI PORTABLE WAVEFORM MONITOR Specification
Download PDF Specification Sheet
Supports various signal inputs


SDI signals up to 12 G-SDI And IP (video over IP) signals can be observed/monitored. Audio signals can correspond to SDI embedded voice, voice multiplexed to IP, external input AES/EBU, analog voice.


IP input format


The IP signal corresponds to the video signal of the 2K video format at SMPTE ST 2022-6 (non-compression) and SMPTE 2110-20 (non-compression). In 2K video format, up to 2 channels can be received with one 10 Gbit Ethernet cable.


With the front panel equipped with key buttons and knobs that follow the operability of conventional models, operation with a USB mouse is also possible. In addition, the LV5600 adopts a 7-inch full HD panel with a touch panel function, and the LV7600 can be operated and set intuitively by touch operation by connecting an external LCD adopted touch panel with a USB cable.


* It does not guarantee the operation with the external LCD monitor adopted by all touch panels.


It supports SD- SDI, HD- SDI, 3G- SDI, 12G- SDI single link, 3G- SDI dual link and quad link, HD- SDI quad link.


Transmission quality analysis function


As an SDI signal analysis function, in addition to monitoring of transmission errors, external synchronization phase difference display, lip sync measurement, SDI signal frequency deviation measurement function, an ancillary data analysis function with increased importance as a 4K video signal is also realized. With respect to IP signal measurement, monitoring transmission errors such as packet loss and the transmission quality (QoS) monitoring function such as packet jitter, which was difficult to observe by using IP, are strengthened.


Video analysis function


Various video signals include video signal waveform display, vector display, picture display 5 BAR display, CIE chromaticity diagram display, etc. In addition to the various displays, freeze error, Black error, gamut error detection Functions etc. Quality control (QoE) of video signals Features are equipped.


For audio signals, SDI signals and audio signals superimposed on IP signals can be displayed on a level meter. Furthermore, Lissajous display, mute, clip error detection, loudness easurement, etc. are available. Audio format is compatible with L-PCM.Also, Dolby E, Dolby Digital, Dolby Digital Plus decode display is possible.
From SD-SDI to 12G-SDI�In the physical layer measurement of the SDI signal some eye pattern display, jitter display is possible.


Subtitles/closed caption decode display function


Japanese subtitles and CEA-608, CEA-708 closed caption, Teletext, OP47 subtitle superimposed on SDI signal can be decode displayed.


External synchronization signal input


The phase difference and synchronization status of the SDI signal graphically based on the external synchronization signal (black burst, tri-level sync) can be confirmed.�Also, since the input external sync signal can be displayed as a waveform, it is useful for early detection of problems owing to the synchronization signal.


Customizable layout


Various items such as video signal waveforms, vector waveforms, and pictures of input signals can be laid out in any position with your favorite size.


SDI signal generation function


SDI signal generation function can handle from HD-SDI to 12G-SDI. HD multiformat color bar and pattern corresponds to the multiple overlays of moving boxes and embedded audio, flat field pattern can be specified at any level, multiformat color bar 4K can be selected.


Since the measurement screen can be output as SDI and TMDS from the monitor output terminal, it can be displayed on an external SDI monitor or HDMI monitor with full HD resolution.�* It does not guarantee operation with all HDMI monitors.


Capture function


It equips with a screen capture function to capture the display screen as still image data and a frame capture function to capture 16 frames of data.


Time code display


The time code superimposed on SDI signals and IP signals can be displayed. The time code can also be used as the timestamp of the event log.


External remote terminal


The presets can be recalled by contact terminals, and switching input signals and tally displays and outputting alarms can be conducted.


Ethernet terminal


By connecting to the PC, remote operation by TELNET, file transfer by FTP, remote operation by SNMP and alarm notification, remote operation and monitoring from the browser via HTTP can be done.
The HDR signal level monitoring and the level management at the assumed luminance (cd /m2 ) in a display considering OOTF are possible. The video signal waveform display corresponds to the HDR scale added to the IRE scale. In the cine zone display, the luminance distribution of the HDR area can be easily confirmed at the state where the SDR area is monochrome, the HDR is colored according to the brightness.


Focus Assist


We developed a new focus detection algorithm based on nonlinear super-resolution technology; accordingly the focus with high sensitivity can be detected even with low-contrast images, which were conventionally difficult to detect.


Tally display


Serial communication enables to display camera ID, iris and tally.�* Dolby and Dolby Digital, Dolby Digital Plus, Dolby E are registered trademarks of Dolby.Z
About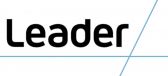 Leader has earned a worldwide reputation for designing and manufacturing some of the most reliable, practical and cost effective electronic instruments available. The products were originally developed for production testing and servicing. These are applications in which ease-of-use and highest reliability are essential. By expanding into a broad line of industrial and video instruments, Leader was able to add to these fundamental qualities a cost-performance ratio unequalled in the industry.